Everything You Need to Know for the 2023 Bay Street Hoops Tournament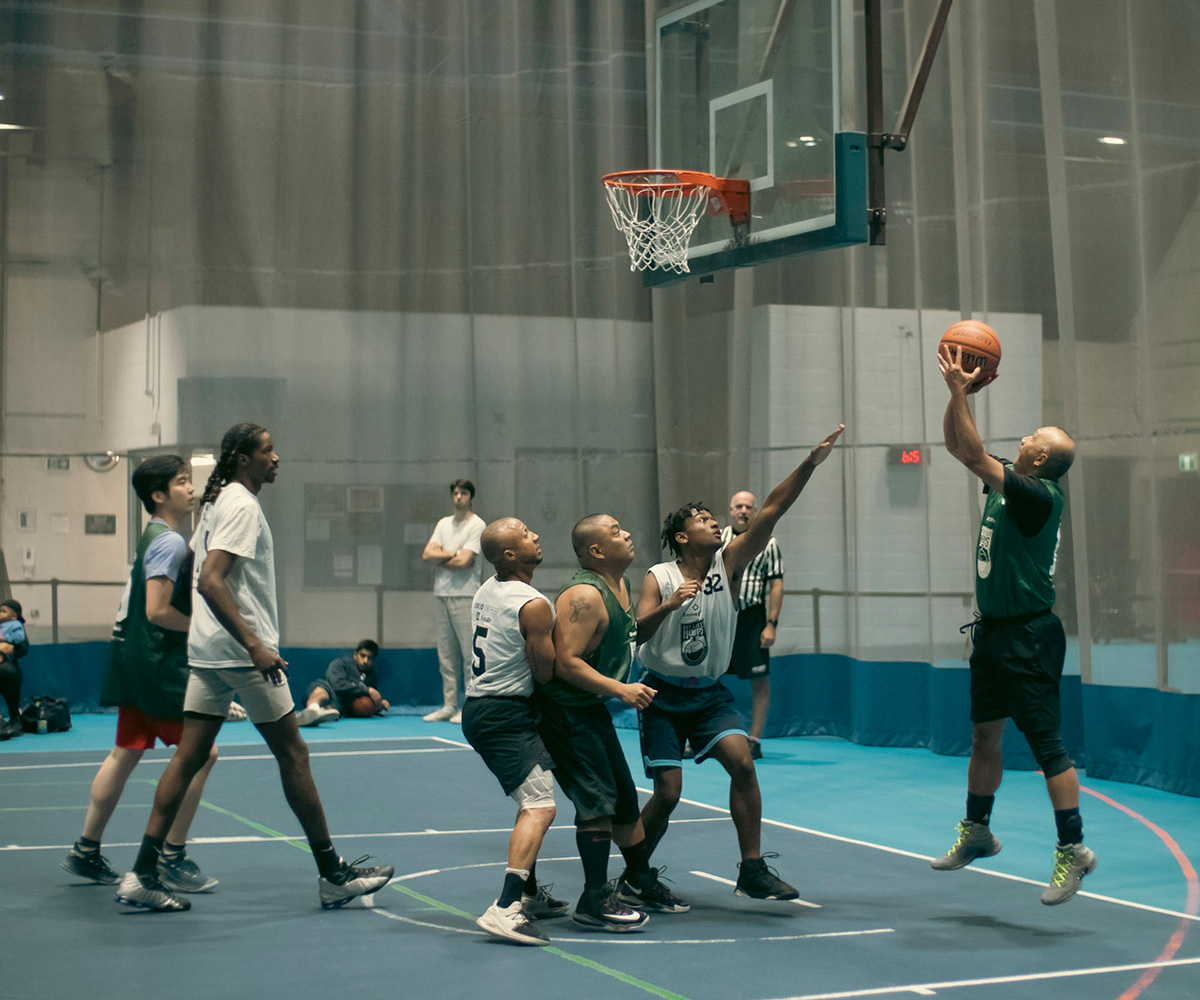 Thank you for choosing to participate in Toronto's largest charity basketball tournament. This year, you are supporting two amazing charities, Drive For Dreams and KidSport Toronto.
Tournament Schedule + Standings
The tournament schedule is available online. Please ensure that you select your division to view the correct information. If anything changes, we will contact your team captain. The most up-to-date schedule will always be available online including team standings and playoff information.
Direct links for each division:
Court maps
SportsEngine App
Download the SportsEngine App to easily view the schedule and team scores and standings.
Getting to the Tournament
The Run for Women is taking place on the morning of June 10 which may make getting to 55 Harbord Street a bit more difficult on Saturday. If you have an early game, we recommend taking public transit.
Jersey Pick-Up
Team captains, please arrive early to pick up your team jerseys before your first game. Jersey pick-up will take place in the U of T student lounge. Please make sure that each of your team members has registered online or they will be unable to play in the tournament. To receive your updated team roster, please email baystreethoops@gmail.com.
Food & Drink
Food will not be available inside the venue – we encourage you to bring snacks if you think you will be hungry before/after your games. Please bring a reusable water bottle to fill up at the water fountains. Gatorade will be available on every court.
Food trucks will be present on St. George Street including Ideal Catering (100 St. George Street) and Grill n Thrill Kabob (in front of the U of T library). Both businesses are looking forward to keeping you fueled for the tournament so please stop by to show them some support!
Shoot for a Car! Join the Fan-Raising Challenge
The fan-raising challenge is back! This is an opportunity for you to help us raise additional funds for our beneficiaries while getting the chance to win a car at this year's Bay Street Hoops tournament.
How it works:
On the final day of the tournament, the top five fan-raisers will be given the opportunity to shoot for a car.
The five qualifying individuals will participate in a free throw contest to determine a winner.
The winner will be given one shot to sink a basket from half-court. If you make the basket, the car is yours to take home.
The cut off to enter the challenge is Friday, June 9 at 6:00 p.m. EDT.
 Creating a profile:
When you register to play in the tournament, a profile will be created for you. If you haven't received your login details, please email us at baystreethoops@gmail.com.
If you aren't playing in the tournament but wish to participate, please create your own profile.
Three-Point Shoot-Out Competition
The three-point shoot-out will take place on Saturday, June 10, at 1 p.m. in Sports Gym 1. Each team is asked to select one player to participate. This player will have 30 seconds to sink as many three-pointers as possible. The winning male and female players will receive a prize. Please sign-up online, or use the sign-up sheet in the player's lounge.
Kids Clinic
The Kids Clinic will take place on Saturday, June 10, at 1 p.m. in the Upper Gym. This free clinic is designed to teach kids aged 6-12 basketball basics. Led by experienced instructors and players, the kids will practice drills, learn skills and, most importantly, have fun. You will be required to fill out a kids' clinic consent form when you arrive.
The Health Institute + First Aid
In the event of an injury, Dr. J and his team from The Health Institute will be onsite to help. If you have any questions, or any nagging pain, stop by to see the THI team in the fieldhouse. They will be with us for all three days of the tournament.
Sutherland Chan
Sutherland Chan is joining us again this year to provide complimentary massages to tournament players. Stop by the Players Lounge on Saturday, June 10, between 11 a.m. – 4 p.m. to receive a massage!
Spectators
Spectators are welcome! Chairs and benches will be set up on every court so your family and friends can come cheer you on.
Thursday & Friday Night Post-Game Activities
We have reserved tables at The Madison Avenue Pub (14 Madison Avenue) on Thursday, June 8, and Friday, June 9, for Bay Street Hoops players. Cover will be waived, and beer specials will be available for $5.00.
Post-Game Party
Please join us on Saturday, June 10, starting at 6 p.m. at the Walrus Pub & Beer Hall – 187 Bay Street to celebrate our beneficiaries and your incredible support. Thanks to our alcohol partner, Lost Craft each attendee will receive complimentary drink tickets for their products. Come hungry because food will be provided! All BSH players will receive complimentary entry. Please bring friends and family – the more the merrier! Non-BSH players are encouraged to make a $20 donation at the door. A silent auction will take place where we will have some exciting items for you to win including tickets to Raptors, TFC and Blue Jays games and golf green fees.
Please do us a favour and RSVP to let us know you will be attending.