How to Support the 25th Annual Bay Street Hoops Tournament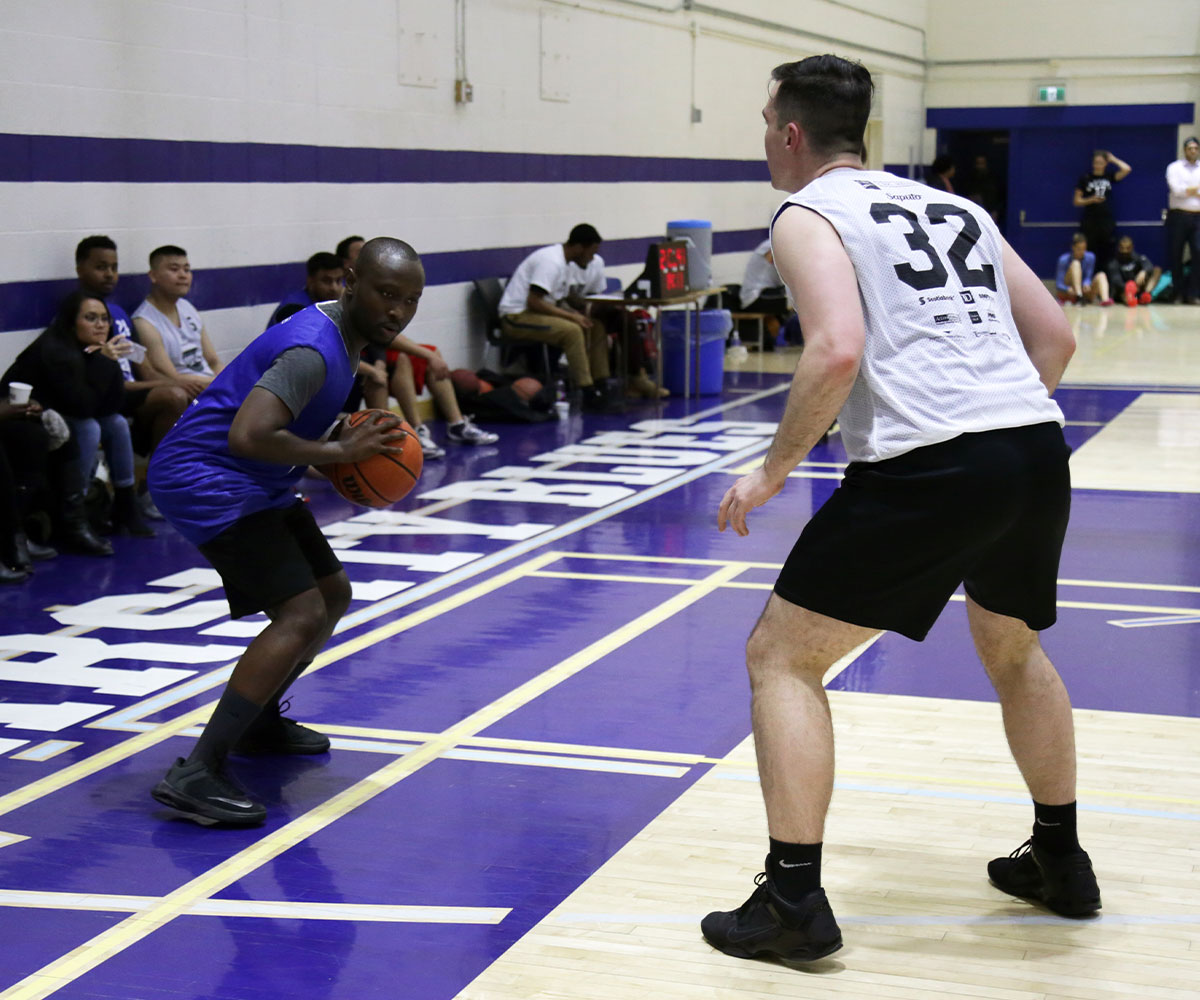 The 25th annual Bay Street Hoops tournament kicks off a week from today at the University of Toronto Athletic Centre. This year, all funds raised through the tournament will support KidSport Ontario and the Drive for Dreams Foundation.
There are a number of ways you can support Bay Street Hoops and its beneficiaries – keep reading to learn how.
Register a Team
We make it easy for skill levels to play in the tournament by offering eight different divisions.
Evolve ETFs: Men's Competitive
Saputo: Men's Rec A
CIBC Mellon: Men's Rec B
Scotiabank: Men's Rec C
TD Securities: Men's Rec D
Bloomberg: Co-Ed
CIBC: Women's
Drive for Dreams: Masters
Registration for the tournament will close on Friday, March 22 at 5:00 p.m. or when we reach 56 registered teams. Register quickly because limited spots remain!
Join the Fan-Raising Challenge
Thanks to our Courtside Sponsor, Dilawri Group you have the chance to win an Audi A3 through our fan-raising challenge. The top five (5) fundraisers will be brought onto the court during the mid-day break on the final day of the tournament (Saturday, March 30, 2019). All five will compete in a mini contest (foul throw shooting and or three-point shooting) to determine a winner. The winner from the mini contest will then have the opportunity to shoot from half court. If the individual sinks the basket, they will win the Audi A3.
You do not need to be registered in the tournament to fan-raise. The cut off to enter is Friday, March 29 at 4:00 p.m. EST.
Donate
We are always looking for prizes and silent auction and live auction items for the Post-Game Party. Please email baystreethoops@gmail.com if you have an item to donate – all donations are appreciated!
We are also accepting monetary donations via our website. All money raised will directly support our beneficiaries.
Be a Spectator
The more the merrier! Come out to cheer on your favourite team.
Game Schedule
Thursday, March 28, 2019 // 6:30 – 10:30 p.m.
Friday, March 29, 2019 // 6:30 – 10:30 p.m.
Saturday, March 30, 2019 // 9:00 – 6:00 p.m.
Fan-Raising Challenge
Saturday, March 30, 2019 – 1:00 p.m.
Three-Point Shoot Out
Saturday, March 30, 2019 – 1:00 p.m.
Kids' Clinic
Saturday, March 30, 2019 – 1:00 p.m.
Volunteer
The Bay Street Hoops tournament is organized by a group of volunteers. We are always looking for new people to join our team and help out during the tournament.
Here are some roles we are recruiting for:
Score and time keepers
Facilities management – ensuring that the courts are stocked with water and Gatorade
Kids clinic
Photoraphers
Videographers
Referees
If you are intersted in volunteering, please email baystreethoops@gmail.com and indicate which days you are available.
Particpate in the Kids' Clinic
The Kids' Clinic will take place on the final day of the tournament, March 30, at 1:00 p.m. We are excited to have Q-Mack join us again to entertain the kids with a series of basktball tricks! They will also have the opportunity to practice their basketball skills. This is a free event. Please contact Susana at baystreethoops@gmail.com to sign up!
Attend the Post-Game Party
Join us at the 25th anniversary celebration! Enjoy delicious food and great conversation while bidding on items in the silent auction. We will also be awarding the tournament winners with their trophies. All Bay Street Hoops players will receive a complimentary ticket to the event. Guest tickets can be purchased at the door or online for $25.
When: March 30, 2019 // 7:00 – 11:00 p.m.
Where: Walrus Pub & Beer Hall, 187 Bay Street, Toronto